Pudding and wings, together at last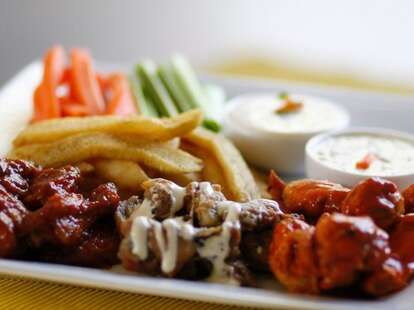 Unlikely duos often make the best pairs, like Lucy and Ricky Ricardo, or lots of other people your grandma knows from the talkies. Making an unlikely pairing in your stomach, the grub at Nana Queens.
Nana's is a just-launched rolling wagon almost exclusively serving up variations on banana pudding and chicken wings, all from a woman who up 'til recently was making her living climbing poles for AT&T -- for 3G, they'll let you in the Champagne room, but remember, hands-free! Wings come in orders of 5 or 10, with a whole load of flavor options, from the amazingly spicy Buck Hot, to the tangy CC Lemon Pepper, to savory Jay Molly Green Ranch, to the BBQ Mango, which, despite the smokey mesquiteness, still kind of tastes like Chris Kattan. If you're more into gelatinous goo, the basic pudding's a straight-up banana cream, with specials including ginger snap and sweet potato, as well as standard variations like the StrawNana (Strawberries), Nana O's (Oreo), and CarNana, which turns out is blended with caramel, and not Buick LeSabres.
In addition, Nana's also got a few sides, ranging from French fries, to macaroni salad, to celery and carrots, another unlikely duo beloved by old people.