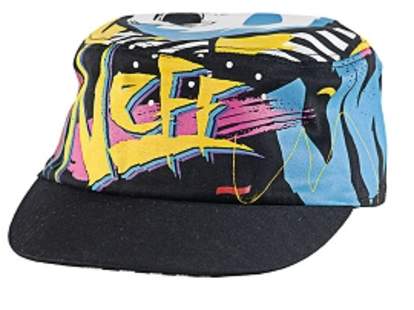 Remember the 80s, when skateboarding was actually about skating and doin' sick kick flips, before it got hijacked by the blood sucking suits who turned it all mainstream? Probably not, since you were three. Well, remember it now, with Neff hats.
SoCal streetwear brand Neff's most recent drop of colorful lids features the throwback neon graphic styles of the 80s and early 90s, which bring to mind the halcyon days of Stacy Peralta, Christian Hosoi, Steve Caballero, and other people you control through your XBox. Retro attention-grabbers include the red-splatterpaint "Szafranski", with Bowie knives spelling out the company name; the painters-cap "Szafranski Skull", with "Neff" spelled out in blue/yellow/pink colors reminiscent of an explosion at Bayside High; and a mesh-backed trucker with an old-schoolish metal font called "Hesher", which is also the name of the first EP released by Nickelback, not that you knew that, or think they're good or whatever. There're also some exceptions to the throwback rule: "Sucker" is a timely fitted cap with the company's happy-face logo against a geometric pattern; "Mash" is a military-style hat with a simple stripe across the front and the logo sprawled on the back, and they've also got a straw fedora available in black, white, or gold called the "Baron", which would be a lot better running the point, if he wasn't so preoccupied with the damn film industry.
If you're already prepping for snow season or just like to sweat, Neff's also got a slew of equally over-the-top beanies, including the bright-green "Predator" (befitted with cloth teeth and a horn), the explosively-colored "Splatter", and "Happy", which'll befit your head with an all-over grin, like the one you used to sport in the 80s, right after a solid diaper dump.