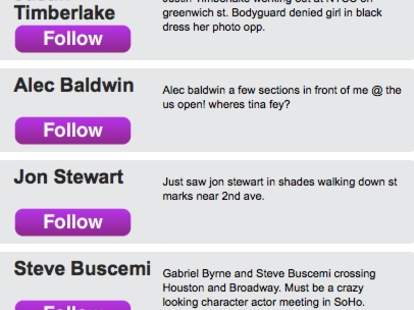 Stalking a celebrity used to be such a pain: first, you'd have to buy a star map, then park yourself outside their door, then get served an injunction, then represent yourself in court wearing a hilarious tie... all just to tell Rachel Leigh Cook you loved her as "Devon". Lose the hassle, keep the stalking with OMGICU.
Just launched this week in LA after much success in NYC, OMGICU is a SMS/Twitter/Facebook-based celeb stalking service, which, using member-provided info, notifies users whenever a star's spotted in their neighborhood -- or, if someone wants to waste a text message, even when it's just Rodney Bingenheimer at Canter's. Usage is simple: sign up, and choose whether you'd rather receive updates on your cell or directly via Twitter; then, choose how you'd like the service to update you, with options including tracking the celebrity of your dreams, or via location, so choose "Beverly Hills" if you want people to think you yourself are glamourous and not just obsessed with looking for that indefatigable girl scout troop. Each spotting's accompanied by user-generated commentary (From NY: "Billy Joel walking his dog and looking old on 6th and Bleeker"), and is also listed online, where users can vote as to whether they care, which then contributes to the celeb's rank on "The Pecking Order," which is a popularity contest, not a Far East Dan Brown novel before getting proofread.
To increase their visibility, OMGICU has also just launched Twacy.org, a site dedicated to getting their most popularly-stalked celeb, Tracy Morgan, on Twitter himself, with the caveat that until you stalk him there, you can only stalk his movements on OMGICU, or from your homey lookout in the bushes that smells like jug wine.