Late night tacos, from a guy who knows his tortillas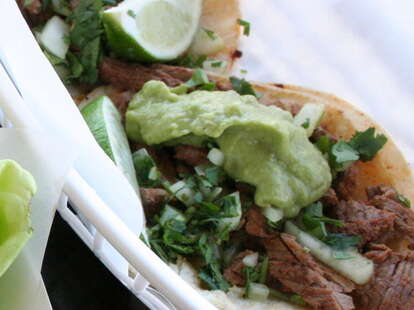 A strong mentorship is a surefire path to one day being "the man", unless Sean Connery's involved, in which case you become the mandog. Becoming that man but with tacos, the dude behind Plancha Tacos.
Plancha's a new, ultra-casual, bare-boned taqueria, boasting only a few indoor and outdoor tables, with loads of authentic Mexican goodies within, all from a guy who started working as a cashier at the original Poquito Mas when he was in high school, learning his way up the ladder for 25 years until he felt comfortable striking out on his own, something Matt Kemp picked up far quicker. The food's ultra-fresh, with meats all grilled on an open-kitchen'd plancha flattop; taco goodness includes street-style soft loaded up w/ steak, chicken, or al pastor, all w/ cilantro and onions, spicy garlic shrimp "Tiger Tacos" w/ jack cheese, and the hard ground-beef "Jimmy Taco," so named for a friend of the owners who came up with the blend of 7 spices, none of which ended up being talented on their own. Also on the menu: burritos loaded up w/ meat, arroz, frijoles, cheese, sour cream, and salsa; corn quesadillas w/ poblano, jack and fresh guac; and tomatillo-avocado sauced deep-fried crispy taquitos, inspired by what you'd get on Olvera street, when you're done shopping for that Quinceanera dress.
As an added bonus, Plancha's open 'til midnight on weekdays and 1am on weekends, which you'll want even more if you're finding the Forrester post the trees.