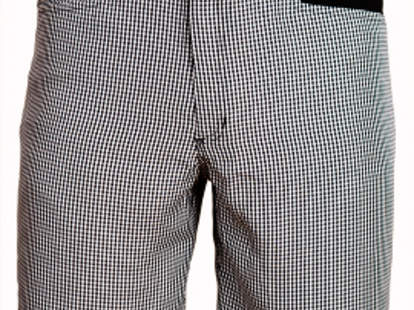 Thanks to our prolonged summers, LA's the city where shorts never die -- except when they do, and your decision to go commando to work a ladle at the soup kitchen proves to be the biggest little mistake of your life. Get some slick small pants in the mix, cheaply, with Recession Rags.
Started by a longtime fashion guy, RR's a mostly-shorts clothing company dedicated to affordable threads with the sophisticated look and durability of fancy pants, minus, y'know, legs, all using material cut from deadstock fabric used by high-end designers like Marc Jacobs and Ralph Lauren, but not Lauren Conrad, because you still remember what shorts are. New shorts have an extra patch of different-colored cloth above the left pocket, and include a green pair of Italian stretch twill w/ a pattern of small checkers in that detail spot; a grey herringbone pattern w/ the same black and white squares right above the pocket, and a boardshort-ish nylon gingham with detailing in black, which is what they were calling the original Men In Black screenplay, when it was just about self-important car cleaners. They've also got other styles like a snugly-fitting milled plaid number, a stretchy, two-tone pinstripe, and a navy-colored Italian "Sharkskin", named for the optimistic dream that someone's gaping maw will be near your crotch.
In addition to the shorts, Recession also carries tees with depression-era images & slogans ("Work Promotes Confidence," etc.), as well as a slew of suspenders -- use them next time, to make double sure Slippery Pete doesn't have a sudden run-in with Willy.