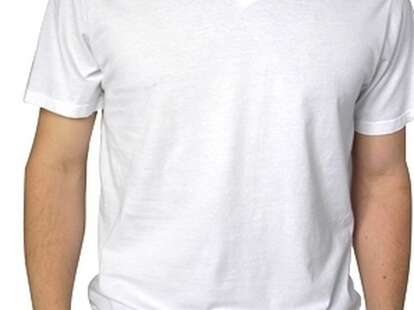 There's certainly nothing wrong with having a solid lineup of plain white t's in your closet, assuming you shut that door Boogie Man-tight when they start in on "Hey There Delilah". Upgrading the kind of plain tees not exclusively loved by middle school girls, RIC.
Started by an LA-based womens-gear guy who was obsessed with the fit of vintage tees, RIC's a company dedicated to super premiumed-up, under $50 three-packs of solid-colored cotton or heather-blend torso-shields, with the name standing for "Rich In Clothing", also the cunning titles of emails President Nixon used to send out, to get people to open pics of him nude. Gear's made from US-grown cotton, with each shirt treated individually to guarantee a super-soft feel, with a fit billed as "not too tight and not too loose", which weirdly enough was Gerald Ford's exact encouraging response to those emails Nixon sent out. Shirts are available in v- and crew-neck, with seven cotton colors and a slightly more limited 5-color heather palette, which includes blue, green, and burgundy? Dammit, who typed a question mark into the teleprompter!?
'Cause they wanna save the environment for some reason, RIC's three-packs come packaged in a pillowcase-like cloth bag made from recycled materials -- pretty much the exact description of every Plain White T's song.