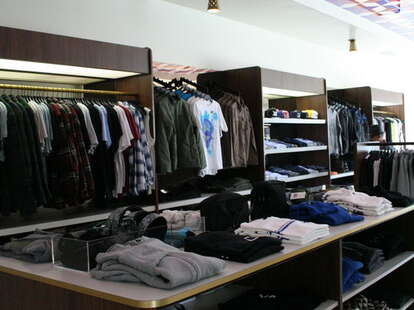 Turning 10 is a big deal: younger kids are jealous of your age, you finally get an allowance, and all of a sudden humping throw pillows has been upgraded from "cute" to "I don't care, you're seeing a therapist". Celebrating that milestone with a fresh, new pad, RVCA
RVCA's a Costa Mesa-based streetwear brand that's just gotten its first-ever L.A. brick-and-mortar -- a simple corner store w/ high, colorful ceilings and a rotating selection of themed art -- and you know everyone loves Pimps and Ho's paintings. The store's flush with most of the current collection, which includes everything from a mid-weight polyester/nylon military jacket to logo-ized trucker hats to tees bearing a royal crest under the name of MMA-fighter BJ Penn -- add an "at", and it's like you're lying to your college buddies all over again! In addition, they stock a ton of perennial basics, from simple pocket tees, to a slew of differently-colored long-sleeve plaid button-ups (ranging from large-squared red & blue cotton to tiny patterned yellow & brown brushed flannel), to 5-pocket denim that's made stretchy with a bit of spandex, combined with the free-spirited chicks, a totally serviceable rationale for starting yoga.
The store's also stocked with large glossy magazines featuring in-depth interviews with all its artists, and soon will carry exclusive print tees that'll help it put its mark everywhere, even the couch, though they should know that'll only have them talking to Dr. Segal before they make it to 11.