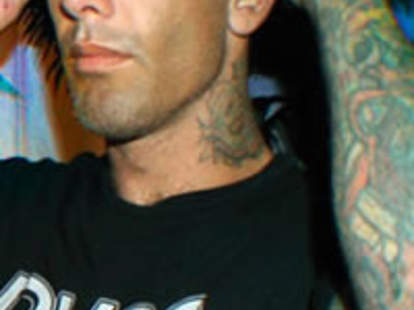 Sunglasses can be a potent, self-contained statement of identity -- but sport the wrong frames, and people will assume you're nothing but a towel-snapping Naval Aviator, or Jose Canseco. For a bolder look that hints at your moral lassitude, check out Sabre.Started in Costa Mesa by two self-proclaimed anarchists, Sabre produces high-quality acetate shades, many handmade, all with evocative designs ranging from the Lebowski-inspired "Dude" to the larceny-inspired "Lawbreaker". The sweetest:
The Fuzz:

These thin-rimmed jobs recall a time when a cop's mustache was every bit as important a part of his arsenal as his pepper spray.

The Hooligan:

A rectangular, mod-Brit frame that'll make you look like that guy in that Elvis Costello video who stole Elvis Costello's girlfriend. You know, that jerk?

The Crue:

Before purchasing these, Sabre wants you to ask yourself, "Have you ever thought about robbing a bank? or even your local 7-11? Or even being involved in a re-issue '70s porno video with your cousin's friends?" Yes.
Sabre's constantly introducing new shades, with coming-soons that include "Purple Haze" and "Poolside" -- together, a mixture of drugs and shirtlessness evocative of...Jose Canseco.