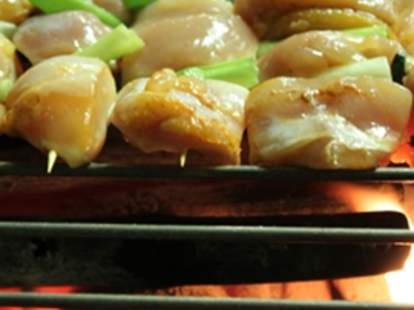 They say the law waits for no man, but what if you're still deciding on a dipping sauce?? Then the law will wait for you, at Skewers on Wheels.
SOW is the newest version of the stick-centric food truck, started by a veteran law dog Sheriff's Deputy who asked the Marked5 guys to upgrade his truck's grub, or wither and die at Comedy Traffic School. The new menu's base is 12 different varieties of skewered meat, each one of which is grilled on traditional Japanese charcoal; multi-ethnic meat options range from buffalo ranch chicken to balsamic butter beef to Hawaiian spam and pineapple to "Miniature J Sausage", which brings back bad memories of post-P.E. middle-school showers. They've also got your choice of a slew of homemade dipping sauces (chili/curry/peanut/teriyaki/etc) and if you don't like eating off a stick (loser!), SOW'll stuff grilled meat in a burrito, taco, or in a bowl with rice, (also a great option when you're overwhelmed by the enormity of candlepin).
The truck launches tomorrow at the Red Bull Soapbox Race downtown, after which it'll roam the city, though usually it'll be found somewhere in the Sheriff's beat of West Hollywood, where he's arranged for it not to be disturbed by parking officers, who wait for no man, especially if you're parked in a 10a-4p Weekdays (Except Tuesday) Zone.