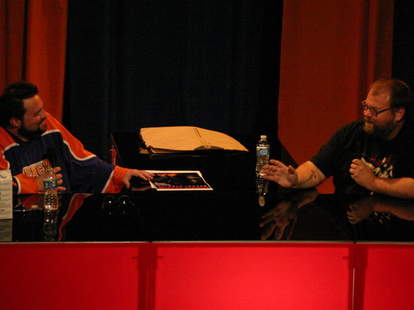 Judging from his movies, Kevin Smith seems like a guy you could hang out with, assuming you had at least four-and-a-half plane seats of space. Now giving you, like, 45-and-a-half more seats to do just that, the Smodcastle.
Just opened, the Smod's a tiny, 50-person black-box theater leased out exclusively by the Clerks director, who has decorated it with a cache from his personal vault (a massive cartoon Jay & Silent Bob; signed Wayne Gretzky gear, etc) and's using it to commune with his fans by hosting ongoing podcasts, showing films he digs, and just generally hanging out -- man, it must be nice living on all that Degrassi: The Next Generation money. From the theater, Smith's hosting or co-hosting a slew of regularly scheduled, open-to-the-public podcasts, including a weekly riff on Hollywood BS with KROQ's Ralph Garman, "Blowhard" (essentially conversations about sex between Smith and his friend Malcolm Ingram), and two shows with Smith and Jay Mewes: "Highlands", which focuses on stories about their childhood, and the future-pondering "Jay and Silent Bob Get Old", aka anything after Mallrats. To keep things interesting, the aforementioned movies are mostly little-known flicks like the fan-generated "The People Vs George Lucas", there's also an open invitation for people to stop by and watch cartoons and eat cereal w/ Smith on Saturday mornings (seriously), and finally: last-minute screenings of little-seen gems from Smith's archives, like a recent showing of an unreleased, improved director's cut of Jersey Girl... so, see you with Honey Smacks/Digimon!
Since the theater's so small, tickets go fast, but on Sept 5 there's a performance of "Blowhard" reserved exclusively for Thrillist readers -- so not going would be a total Cop Out, Fanboys. Daredevil.