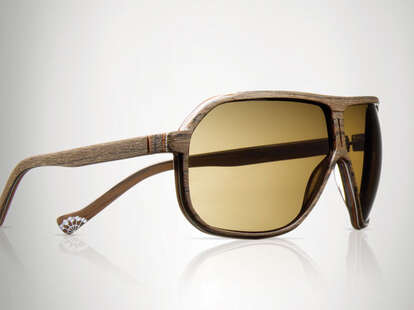 Brazil's fascinating for everyone, from eight year olds watching Robinho do crazy things with a ball, to 28 year olds watching Gisele while doing crazy things with their own...Robinhos. Now making Brazil fascinating for your eyes, Chilli Beans.
CB is Brazil's largest sunglass company, just now making its US debut, with fresh drops coming in each week to a small, LCD-TV-enhanced, mirror-laden shop in Santa Monica Place -- a safe choice as Melrose Place is full of Shooters. Just released shades include a futuristic, bright red pair; a gold-rimmed, aviator-style number w/ thin black lines running down each side; and an uber-Euro-looking pair with thick earpieces and a one-piece lens that's all yellow, so buy them, and expect Coldplay to write a song for you, and all the things you do. They've also got other accessories, like an extensive selection of watches, with options like wide-circled stainless steel analogs, as well as fitted logo caps, striped fedoras, and plaid drivers caps, though it remains unclear why your golf club needs a cap, especially when its got that sweet Snoopy cover.
To celebrate their LA launch, they've also got a few limited-edition, store-only pairs boasting a graphic of the ferris wheel on Santa Monica Pier, which is also a fascinating place, but be sure and keep your wallet in your front pocket, to protect against getting robbinho'd.