Sweet ties, inspired by sweet tomes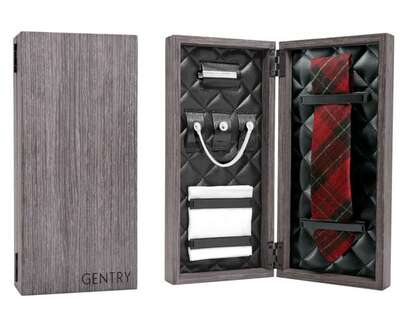 Novelists are known for having crazy lifestyles, though, to be fair, LC isn't just a novelist. Celebrating the Hills those authors had to climb via sweet gear, Gentry.
Gentry's an upscale ties-and-more company started by a longtime marketing dude and PR chick, with each of their meticulously constructed and classed-up collections named after and inspired by a famous novelist and their beloved characters, though it's anyone's guess how writers can get emotionally attached to units of information that roughly correspond to a grapheme. Just-dropped's the Salinger Collection, with ties including the dark-plaid Caulfield, the washed-grey Pency, and the light-silver Edmont, each of which's packaged in a tufted box with brass hardware and a 12sqin pocket square, who'll totally freak out if you put your cigs in there with him. Also available online's the Hemingway (featuring a maroon-plaid Cantwell, and a pale checked Santiago) and the Fitzgerald, which includes the checkered Gatsby, the herringbone Carraway, and the grey-or-black-linen Buchanan -- buy that one, and you've got your wedding-wear down Pat.
In addition, the company also sells slightly-wackier one-off ties (a multicolored checkered number; a black and white plaid) as well as tie bars -- none of which LC's protagonist attends, as Brody prefers places where everyone is wearing luxury sweats and a screeching, flaming eagle v-neck.