For dictators, relaxing the rules even slightly represents a major mellowing out -- like when Mao allowed the reformist-minded Deng Xiaoping to reenter politics, or Castro allowed his brother to be "New Dictator". Relaxing the rules on raw fish: SugarFish

A tiny, back-to-basics spot from Kazunori "Sushi Nazi" Nozawa, Sugar takes a step back from the rigid "You'll eat what I give you" of omakase, and instead presents three preset menus: #1 (small), #2 (medium), #3 (medium plus fishier rolls and one more piece of sushi -- so, "large-ish"). Each menu'll always include edamame, plus Nozawa's signature blue-crab rolls and albacore sushi, which the chef claims will melt in your mouth (unfortunately, no candy shell prevents it from also melting in your hands). The rest of your prix fixe rotates daily, but may include anything from toro rolls to simple yellowtail sushi to white shrimp -- blanched for mere seconds in boiling water, then cooled in icewater to prevent further cooking, and to shame the white shrimp with tail shrinkage

SugarFish will offer a few items a la carte, but you can only order them after your your main meal's finished -- because the Cultural Revolution is one thing, but the ultimate tyranny is the Clean Plate Club.
Recommended Video
This Nacho Mountain Destroys All Other Nachos
Previous Venue
Next Venue
Venue Description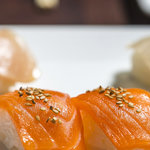 1. SugarFish
4722 Admiralty Way, Marina Del Rey, CA 90292
Kazunori "Sushi Nazi" Nozawa takes the food he perfected at his namesake restaurant and makes it more accessible to the masses without sacrificing an iota of quality. That quality's ensured by forgoing flashy rolls and fusion dishes in favor simple set preparations -- you choose from three set menus ranging from small to large-ish, and while a la carte items can be ordered on top of that, if you pick the right size and trust the master, you really won't need them.