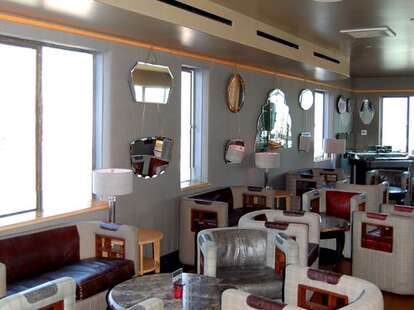 Staying in a hotel offers many amenities your home does not: a fresh towel daily, 24-hour concierge service, and a bed that people have actually had sex in. Now finally sharing those amenities with you, Suite 700, at Shangri-La
Just now open to the public (after previously only being available to hotel guests and private parties), Suite 700's a swanky, vaguely nautically-themed indoor/outdoor rooftop bar, appointed with a sweeping ocean view as well as fire pits, port windows, and flannel-clad walls -- so there's a (silver) lake view as well? Drinkwise, they've got specialty cocktails like the "Ward 8" (Hirsch Canadian 8 year rye, fresh citrus, house made grenadine), the "Pimms After Dark" (with Junipero, Vya sweet vermouth, mint), and the Buffalo Trace/homemade Sasparilla "Kentucky Afternoon," which's more appropriate than the Kentucky Evening, since that traditionally involves cousins. As far as grub, there's a small-plates menu with options like octopus carrpaccio w/ salted lemon & smoked paprika, foie gras sliders w/ raspberry puree & rice crispies, and avocado espuma-sided bay shrimp with "drunken watermelon", also the name of a fighting technique in which you just roll around attempting to stain people's polo shirts with your juices.
The hotel also offers a full-service restaurant that's now got courtyard patio service, doling out dishes like lamb merguez sausage w/ slaw harissa mustard and fresh, raw-bar oysters, giving you yet another amenity your home does not: food that's not in the shape of pink hearts, yellow moons, orange stars, and green clovers.