This massive artstravaganza's got gratis beer plus a ton of artists painting/ sculpting/ recreating pop culture icons ranging from Chris Rock, to Woody Allen, to Sarah Silverman, all at a show subtitled "100 Artists Take Aim At Funny People", to which Dane Cook replied, "Well good, I hate being aimed at anyway".
Recommended Video
Williamsburg Tattoo Artist Burak Moreno Puts Needle To Skin With Funky Designs
Previous Venue
Next Venue
Venue Description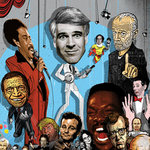 1. Is This Thing On?
7020 Melrose, Los Angeles, CA 90036
This massive artstravaganza's got gratis beer plus a ton of artists painting/ sculpting/ re-creating pop culture icons ranging from Chris Rock, to Woody Allen, to Sarah Silverman, all at a show subtitled "100 Artists Take Aim At Funny People", to which Da