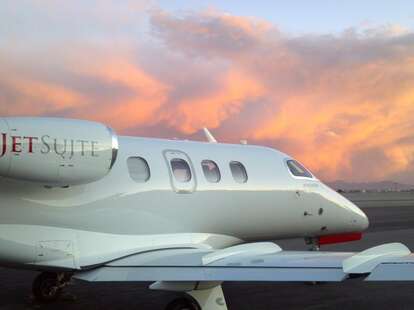 It's always exciting to experience something you never thought was possible, even if you did have to pay $500 and kissing wasn't allowed. Now letting you experience another formerly impossible dream, JetSuite
JetSuite's a private aircraft company just purchased by a dude from JetBlue, who upgraded the whole fleet with brand new planes, then illogically decided to drop prices to actually-pretty-affordable rates going from LA to Vegas, since going from LA to Wong Foo Thanks for Everything Julie Newmar would just be a drag. Flights are $999 total for up to four people (comparable private flights are around $4K), and you'll be flying on a brand new Phenom 100 featuring a glossy, leather BMW-designed interior abetted w/ noise-reduction headphones, power outlets, and gratis wine, booze, and Red Stripe -- a total upgrade from Redd Strip, no matter how sexy you think that Foxx is. Just in case Vegas isn't your thing, they've also got discounted-rate flights to Oakland, and from there to Vegas, as soon as you realize you just flew a private jet to Oakland.
To further sweeten the deal, JetSuite's also got crazily discounted package deals with the massive, Strip dominating Wynn, also another experience that's actually still not possible, no matter where you are in Vegas.