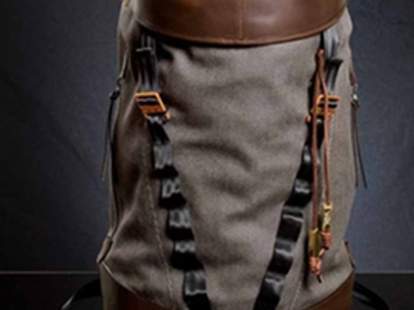 A hardcore traveler really only needs three things to get by: sturdy shoes to get from place to place, a reliable bag to hold his belongings, and the mental readiness to convince everyone he's from Canada. Now perfecting two of three, Vael.
Long known for outdoorsy shoes and sneakers, Vael's just introduced a line of sturdy, useful bags, inspired by the owners' vagabond lifestyle, which results in employees strewn in home offices across the country, and the designer having given up his LA home base to fulfill his wanderlust, and finally get that garden level studio in Cerritos. All bags are classed up and made from high-quality, mostly American materials, including full-grain leather hide, durable, thick cotton-based canvas, and webbing made from the same material as seat belts, so you'll probably never use it. Designs run the range, with larger bags including a unique-looking, cylindrical rucksack, a massively-main-pocketed duffel w/ water-resistant zippers, and a sleek-looking, adjustable-strapped messenger bag; for smaller needs they've got a toiletry-holding bi-fold "Travel Kit," a padded, handle-abetted laptop sleeve, and the tiny tanned leather zip-close "Shell", lined w/ wool felt to protect cameras, iPods, or "sensitive items", like jewels, or Daniel Day Lewis.
All the bags are barely branded, w/ just a small, removable metal logo identifying them; next up for the brand's a line of cigar cases, ashtrays, and actual cigars -- allowing you to ditch your Canadian travel story and just tell everyone you're Suge Knight.