The W Hollywood Residences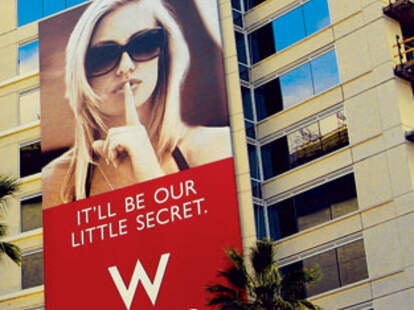 Most residential communities offer little in the way of perks: Coin-operated washer/dryer. Hot-tub of dubious cleanliness. Reclusive neighbor, also of dubious cleanliness.
For more inspired living, try the W Hollywood Residences, opening in December.
Armed with 143 impeccably modern residences, the W Hollywood Residences offers a beyond full-service contemporary lifestyle so desirable, it could be nicknamed "so desirable, you won't be able to hold out 'til the third date to sleep with it". Feast on a few of the amenities:
• Preferred treatment at Bliss Spa; the Côte d'Azur-esque Delphine Brasserie; and Drai's Hollywood -- 20,000 sq ft of nightlife including a rooftop club and an open-air rooftop pool bar.
• W's Signature Whatever/Whenever concierge service -- who'll help you plan those rare evenings you don't spend wandering the grounds of your ridiculously enjoyable new home.
• Access to two WET® pools (one private for Residences dwellers).
• Access to SWEAT®, a state-of-the-art fitness facility you should utilize extensively before disrobing at that pool.
• WHEELS® valet service.
Be among the first to request a tour, and put yourself in prime position to own one of the most enviable addresses in the world, and perhaps even the universe. Once settled in, you will have access to all of the amenities like private in-home catering, botanical services, 24/7 room-service, and daily maid service -- in a place like this, your own dubious cleanliness won't be a problem.