LA's first Bustaurant. You're welcome.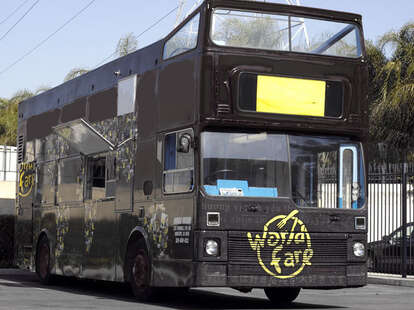 There have been buses for school, buses for parties, even buses for magic that Ms. Frizzle takes on field trips to the solar system with the class pet lizard, Liz, but there's never been a bus-taurant. Until now, with World Fare.
The brainchild of a genius restaurant supply-man, WF is LA's first bus-based restaurant, a former double-decker San Diego tour bus that's been completely refurbished, with a a full-service kitchen on the ground floor and, up above, actual restaurant-style table-and-bench seating, although the cool kids have permanent dibsies on the back. Food's from a former Michael Mina chef, and the focus of the menu is a multicultural melange served in bread bowls/bell peppers called "Bunnies": filler options include Worchestershire-braised short ribs w/ horseradish creme fraiche; a mild, Indian-style chicken curry w/ coconut milk, chick peas, cashews, & cilantro; handmade meatballs w/ marinara & Parmigiano Reggiano; and the sweet corn jalapeno relish/pork butt BBQ Bunny, which are delicious when dipped in Bunny Ranch. They've also got a rotating blackboard of more-traditionally plated specials, including buttermilk-dredged rock shrimp lettuce cups w/ house-made remoulade; tuna tartare w/ green apple & wasabi aioli served w/ wonton chips; and a black truffle aioli abetted Piedmontese steak frites that's been grilled, but still swears it never pinched that study abroad chick's butt.
Once they really bust-off, the World Fare's gonna start having movie screenings and upper-deck concerts, which could be great, assuming they can get Bus-ta Rhymes.