Z-Trip's Ultimate Coachella Playlist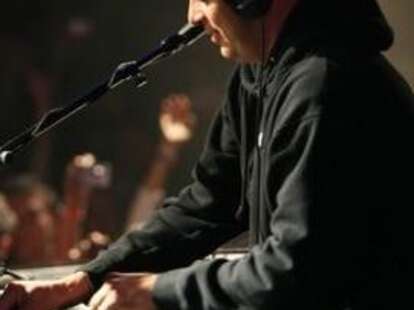 If you're reading this, chances are you're not on your way to Coachella, or maybe you are, but just can't get enough of reading. Either way, we've enlisted mash-up DJ Z-Trip (playing the fest on Sat night) to help keep you in the know with a playlist of 10 songs he thinks are gonna kill on the field this week:
DJ Craze and DJ Klever:Track 19 This untitled-ish track features DJs scratching and sampling 80s Big Daddy Kane, who in recent years has been all but supplanted by Big Daddy High Fructose Corn Syrup.
Rusko: Da Cali Anthem This electro jam samples 2Pac and Dre's classic "California Love" over Euro club synth, but not Eurosport synth, since that features wayy more pictures of Tab Ramos.
The Glitch Mob: Drive it Like You Stole It (King Fantastic Remix) This track effectively melds gangsta rap braggadocio with tech-nerd digital synth sounds, like a Gang Summit in Second Life.
Bassnectar:Cozza Frenzy (Z-Trip Hellraiser Remix) This heavy, thumping collab between our beatmaster and a notable Burning Man fave's got a crazy drum break and Freddy Krueger-style vocals that include the lyric "Double Double", which you just know he'll order animal style.
Sly Stone:Loose Booty An oft-sampled soul classic from the ultra-reclusive funk superstar, whose chances of actually appearing at Coachella this weekend are about 20% (though chances of you hilariously calling him Sly Sta-Stoned: 100%).
Little Dragon: Feather Enjoy this chilled out, ethereal vibed track from a co-ed Swedish band fronted by a whispery, willowy lead singer with Japanese roots, who were just too damn polite to turn down Jimmy Fallon.
The Dead Weather: Treat Me Like Your Mother (Z-Trip remix featuring Slug of Atmosphere) This hard-rocking track from Jack White's most recent side project gets the mash-up treatment, w/ an added verse from the noted Minneapolis white-boy rapper Slug, who's probably really good looking.
Mayer Hawthorne and the Country: Just Ain't Gonna Work Out Though actually a new song, this Motown-style soul jam sounds as if it could be late Temptations, though not as tempting as left over Chinese food.
The Specials:A Message For You Rudy This genre-defining ska band hasn't toured as a whole since 1981, a year best known for Ronald Regan's presidency, the first orbital flight of the space shuttle, and, as far as you're concerned, the last time your parents ever had sex.
Fever Ray:If I Had A Heart A haunting, pulsing, nearly tribal track off a side project from the lead singer of Swedish band The Knife, since the main band... didn't cut it (pause for high five).