Angelenos are accustomed to ignoring historical realities in the movies, whether it's Tom Hanks saving Private Ryan, or Martin Lawrence saving Princess Regina (Black Knight? Golden Reel Nominee for Best...Holla?). Starting today, Little Dom's is doing it with your dinner

The spawn of Hollywood institution Dominick's, LD's an upscale-casual bistro designed to feel just as old school as its forebear -- sometimes through legit means (antique bar and light fixtures; '40s-era celebrity headshots), sometimes not-so-legit (furnishings "aged" by the very set designers that created "Clint Eastwood"). While the menu nods to LD's younger neighborhood with gourmet pizza/burgers, it relies heavily on Spaghetti and Meatballs, Whitefish Picatta, cheese-and-mushroom fried-rice balls, and other circa-1948 staples, many sold at $1 less than Dominick's prices -- enough for the down payment on a Buick (now with Dynaflow Drive!). The wine list focuses on boutique Italian vintages, but also includes Dominick's house label "Dago" -- a throwback to a time when xenophobia was hilarious, and delicious

Within a few months, LD'll apply their classic LA sensibilities to lunch and breakfast service, then open an NYC-style deli next door -- geographically unrealistic, but nonetheless as welcome as that copy of Black Knight you cleverly stash in the DVD case for Castaway.
Recommended Video
This Pizza Is A Calzone & Garlic Knot Hybrid
Previous Venue
Next Venue
Venue Description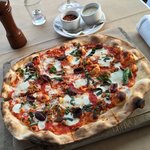 1. Little Dom's
2128 Hillhurst Dr, Los Angeles, CA 90027
If you want breakfast pizza and Jon & Vinny's is too far west for you, consider Little Dom's, the Los Feliz alternative. The cool and casual Italian bistro serves breakfast, lunch, and dinner that'll knock out your tastebuds. Seriously. Expect the aforementioned breakfast pizza and egg dishes at breakfast, meaty sandwiches at lunch, and a range of pasta and meat entrees at dinner. Oh, and did we mention Little Dom's pizza margherita? Keep it simple with tomato sauce and mozzarella or dress it up with house-made sausage but either way, it's good.