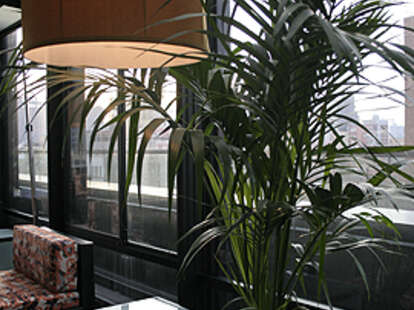 Part of Manhattan's mystique are its rarefied rooftop aeries, where the haves rub elbows, sip the finest cocktails, and drop the finest toothpicks from such great heights they drive straight through paupers' skulls. Be that dignified, at Above Allen.
With views of everything from Midtown's grandiose skyscrapers to Chinatown's soaring clotheslines, AA's a 7th story stone-floored hooch hut sporting a glass-paned roof that, in warm weather, uncovers everything but the bar. Nibbles-wise, they're trotting out mini portions from in-hotel resto Shang (smoked squab breast and foie gras, slow cooked Berkshire pork belly...), which you can take down on couches deco'd w/ graffiti-style quotes from the Declaration of Independence (misleading, as all asses are not created equal). As for tippling, AA's pouring the usual suspects (Stella, Guinness, etc), plus the odd Mexican (San Miguel) and cocktails like the vodka and Canton "Yen Yen", the shaken martini for 2'9" Filipino martial arts hero Weng Weng.
Starting in March, AA'll require VIP access cards, but for now they're open to the public -- giving you a limited amount of time to lurch bloodily upstairs and find that callous society waif with the uncanny aim.