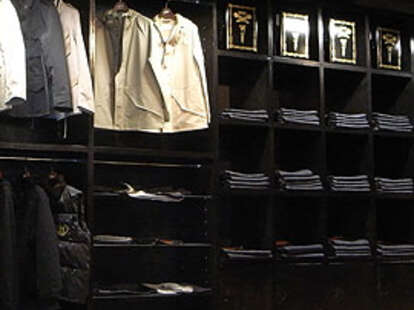 It's one thing to draw inspiration from Japan's rich traditions, but to truly become a master you've gotta actually go there -- like, there's a reason it's called Tokyo Drift. Mastering Nippon's denim, and bringing it back, Prohibit NYC.
A Japanese-selvage pioneer, Prohibit first opened an LES shop in 2001, but in '03 closed up and moved to Japan, where they apprenticed themselves to denim shoguns; now, like an improbably superior sequel (Resident Evil 2!), they're back in NY peddling better-than-ever gear in their own boutique. The store stocks several variations, but the mainstay's classic-cut, shuttle-loomed premium jeans double-sewn for durability and everyday wear, and sporting a rough wash that at first lends a defiant crispness, but slowly adjusts to your body as it beats them into disillusionment and handsome defeat. Prohibit also deals in Egyptian cotton v-necks, two-tone nylon jackets, and cotton canvas & chambray military field jackets, plus a sweet pair of sturdy khakis with a reverse-tone stash pocket built into the waistband -- perfect for condoms, pocket watches, and other lovable eccentricities.
Prohibit does carry two other hard-to-find brands: super supple cotton hoodies from Japan's Milton's, and wide-leg, garishly embroidered jeans from RMC -- shoehorn yourself into a pair, and it'll draw all eyes to the Fat and the Furious.