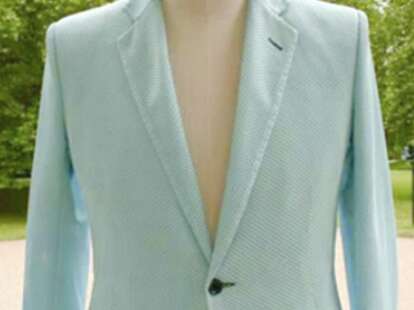 As a material, mesh has long been associated with primal, grunting, sweaty endeavors, some of which apparently take place outside of the strip club. Because sometimes you sweat in blazers too, check out this season's Social Suicide.
The self-described "brawn-child" of two long-time Brit buds, SS's summer lineup pushes the edge of men's fashion by incorporating casual mesh into an array of fancy pants party jackets, all developed on Savile Row before being individually made in India under a one-tailor-per-jacket system, 'cause you don't want the baggage of a previous three-way to strain your relationship with your duds. Their classic, cinched-waist, two-button silhouette kicks off with 100% linen jobs like the Fresh, which contrasts your choice of a cream/blue/gray exterior with a light blue polyester mesh half lining, revealed only when you use the hidden elbow-button to roll up your sleeves Don Johnson-style; and the Breeze, which features a vertical zipper along the back that opens to the mesh lining, allowing for ventilation and extra give, perfect for when Bill Bixby is only moderately irked. For more visible tomfoolery, the Gale rocks mesh on its lapels, plus a strip running from the armpit to the cuff for breathability, while the Hurricane adds said wondrous fabric to waist and back, and finally the Storm ditches linen altogether, making it "utterly useless for insulation", so thank god for Ton Tons.
If you're blazer'd out, they also rock a handful of ultra-fitted polos and tees, linen pants w/ hidden zipper pockets, suspenders, and mesh/linen ties with alternating colors on either side that they call "double-ended", though generally that happens in the comfort of your hotel suite, so why bother with pants at all?