Franks served up in a private alley in Lower Haight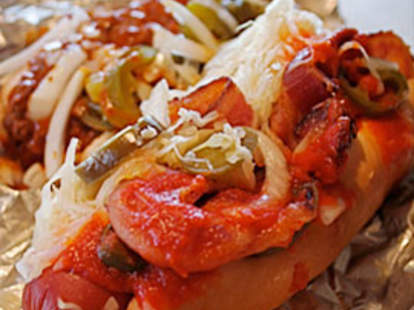 True innovators are capable of flipping the most widely accepted maxims on their heads, e.g., Christopher Columbus disproving the world was flat, or Garfield, who proves again and again that cats do like lasagna. Dispelling the archaic notion that street food belongs on the street, Hot Dog Alley.
When you peep signage that could be the handiwork of a four year old, brace, 'cuz you're about to plunge headlong into HDA -- a tiny private alley, stuffed with a nondescript tent and food cart from whence Lower Haight denizens Mojo and C. Water (no joke) slang cheap, heaping man-dogs named for famous SF 'hoods (no Clarendon Heights, dog?!). Fo' real options range from the SOMA Dog (a mild hot link slathered in homemade chili), to the Fillmore Dog (a spicy hot link w/ jalapenos), to the Tenderloin Dog, a normal frank wrapped in bacon that'll "melt in your mouth", even as it poops on your stoop. Upping the epicness is a slew of fixings/condiments like hickory BBQ sauce, sweet n' spicy Southwest mustard, and onions/peppers/sauerkraut Mo & C-Dub grill on a big Foreman (again, no joke)...plus their signature cheddar-sprinkled, bacon-wrapped, cream cheese-stuffed jalapeno, aka the Mission Popper, not to be confused with Slippery Ed (the Mission Pauper)
To wash it all down there's a smattering of soft drinks and their own cherry lemonade. HDA's open from noon 'til around 3pm daily, and then again around the time the bars close, just don't eat it on the way into your apartment because there's no flipping that whole "hot dog in a hallway" thing.