Thrillist Snow Guide: Mammoth, CA
Peter Morning, Mammoth Mountain Ski Area
No snooty ski vibe or elite alpinism here -- just one big-ass mountain and a California cool-kid crowd that help make Mammoth an almost year-round rager, both on the slopes and off. Destination numero uno for SoCal skiers (it's about a six-hour drive from LA), the 3,500-acre resort not only offers terrain for all levels, but epic spring corn, snowbunnies boarding in bikinis, and après that stretches late into the night.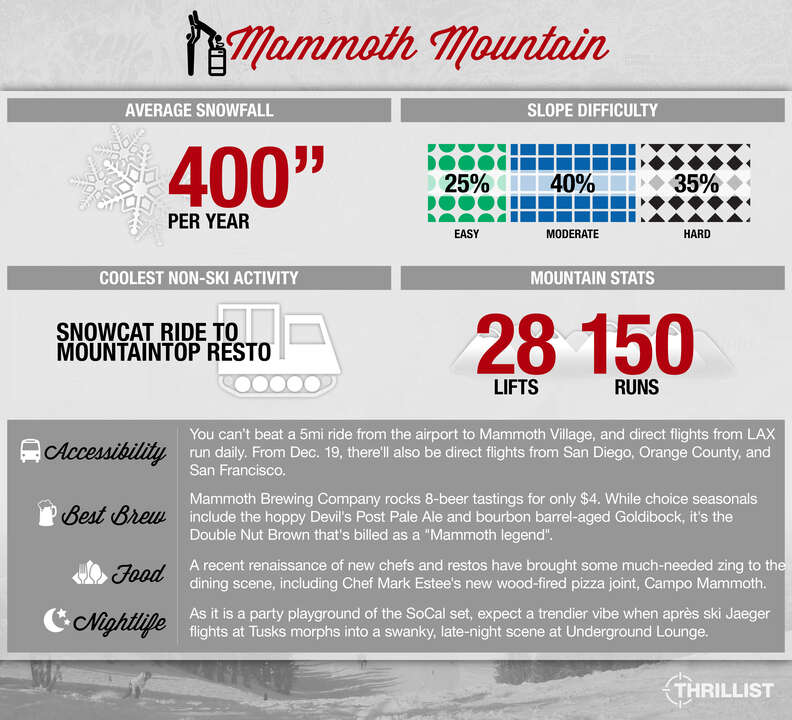 When to go: The resort usually has a solid base by mid-November, and you can count on the winter season going through at least Memorial Day. As you'll no doubt be fresh off of watching the Winter Olympics in Sochi, check out America's largest winter biathlon (skiing and shooting!) at the end of March.
How to get around: Ditch the driving and take advantage of Mammoth's fantastic (and free) shuttle system. The airport shuttle into town is synched up with flight schedules, and puts you at the base in only ten minutes.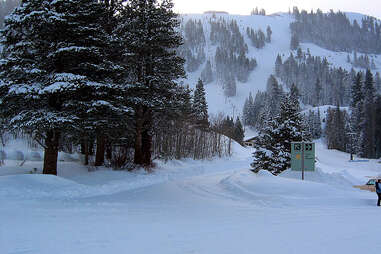 Three runs not to miss:
1. On a good powder day, head to Chair 22 for Sunshine Glades, Grizzly, or Shaft (oh, you'll definitely dig it), and tear through some of the Sierra's best tree skiing.
2. For the more advanced, Dragon's Tail and Dragon Alley (accessed by the Cloud Nine Express chair) also offer perfect powder, and usually with fewer people.
3. For a beautiful route all the way around the mountain and back down to the base, take the gondola to the top of the Sierra and catch Upper Road Runner to Road Runner to Lower Road Runner -- a fantastic run, even without Wile E. Coyote in pursuit.

Pro tip #1: Don't be one of those suckers at the ski rental shop squandering prime piste time in line. For a few extra bucks, Black Tie Ski Delivery will bring skis, boots, and boards to your room (delivery is actually free) for a personal fitting. You'll be carving it up before the rest of the masses have even picked out poles.
Pro tip #2: A well-kept secret for excellent side country is June Mountain, Mammoth's lesser-known sister, about 20 minutes away; it reopens on December 13 with 500 acres of beginner and intermediate terrain, plus an additional 2,590ft of vertical.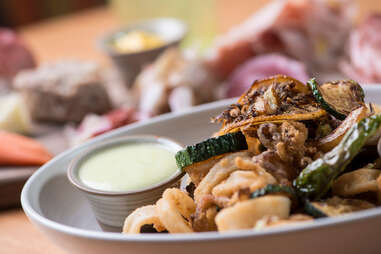 Dining: After years of slogging along with mostly unremarkable restaurants, Mammoth's culinary scene -- with new chefs and a renewed focus on local and seasonal ingredients -- is finally starting to reflect its California roots. One revamped resto earning rave reviews is The Lakefront, whose seasonal menu features mountain-inspired dishes like trout and venison. In the Village, star chef Mark Estee is pleasing palates with handmade pastas and creative wood-fired pizzas at his recently opened Campo Mammoth. To save a few bucks, or bust a wicked hangover, Roberto's serves up ridiculous portions of hearty Mexican fare just a few miles away in Mammoth Lakes.
Local brews:Mammoth Brewing Company's the big dog on the mountain, and is right across the street from the Village. From 4-6p daily, score $4 pints of their entire lineup, including the award-winning Double Nut Brown, German-style Fire & Eisbock, and the 5.5% ABV Real McCoy Amber, which in no way will make you want to run away. Oh yea, don't forget to grab a growler of Golden Trout Pilsner for the after-party in your hotel room.
Après: Like the temps, the prevailing post-slope scene at Mammoth watering holes is chill. In the Village, the Clocktower Cellar Pub draws both locals and visitors with a killer selection of whiskeys and microbrews, plus its totchos, a hearty hybrid of tater tots and nachos. Another Village favorite is the recently renovated Yodler, with its Alpine-y vibe and Swiss/ German vittles; did someone say homemade schnitzel? Meanwhile, the no-frills-but-always-fun Tusks appeals to the 20-something set, with killer views of the slopes, slightly overpriced but awesome drinks, and Jager flights built into old skis, aptly dubbed Shotskis.
Nightlife: Mammoth's nightlife tends to be dictated by whichever in-the-moment hotspot catches the attention of the visiting SoCal snowbunnies. One soon-to-be favorite is Underground Lounge, which opened at the end of last season and has a swanky late-night scene, complete with live tunes and small plates; best wear something dressier than your finest club fleece. As far as trusty standbys, Whiskey Creek draws an après crowd that often lingers into the night thanks to the beer, (cover) bands, and hip-hop. For a down-home locals' joint, The Tap, in Mammoth Lakes, delivers with all the right dive-bar essentials: cheap beer, a pool table, and a rocking jukebox.
Other than skiing/ boarding?
For a wild ride down the mountain that doesn't involve burning quads, hit up Woolly's Tube Park & Snow Play. Or, just outside of town, the Tamarack XC Ski Center boasts more than 19mi of groomed trails, as well as uber-cool full moon tours on cross-country skis or snowshoes. If you're visiting with your special lady friend, knock her woolen socks off with a romantic snowcat dinner that includes a heated luxury cat ride (with champagne) up to a pre-fixe meal at Parallax on the mountaintop.
Where to stay: For a pack-'em-in guys' weekend, the Village Lodge is a solid choice, with suites and one- and two-bedrooms that come with full kitchens, balconies, and fireplaces. Though a bit farther from the nightlife, Mammoth Mountain Inn is your budget play, assuming you don't mind dated, sometimes shabby décor (Pro tip #3: rooms in the main building are a step up from those in adjoining buildings). The four-diamond Westin Monache Resort Mammoth is the spot for big spenders, though deals can be found in the offseason. Finally, VRBO and Airbnb rentals abound; just make sure to book one close to the Village, especially if you don't have a rental car.