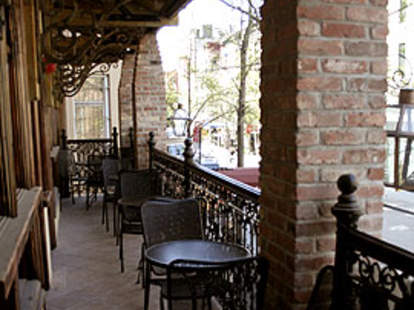 Half measures will doom a man, hence the fate suffered by Donald Rumsfeld ("You go to war with the army you have") despite repeated warnings from Mr. Miyagi ("You karate do guess so, squash like grape"). Giving you a full dose of the French Quarter: Bourbon Street Bar and Grill, opening tomorrow.
Run by the guys behind NY's House of Blues, BSBG's an immense, two-story drinker's manse decked out with wrought-iron balustrades, stuffed alligators, and fleur-de-lis on everything but the urinal pucks. Debauchery's split between several commodious zones, from a brick-walled back patio, to a well-sofa'd lounge, to a wraparound 2nd-floor dining area overlooking the main bar -- a 20ft tall, custom-built mahogany installation inlaid with carvings of barechested female torsos, which'd be tastefully reminiscent of ships' prows if the breasts weren't so awesomely big. As for sustenance, the N'Orleans-born chef's plating up bayou faves (oyster/shrimp/catfish po'boys, chicken and andouille etouffee), while the barkeep's pouring screw-it-I'm-on-vacation classics like the Alabama Slammer (Amaretto, Southern Comfort, Sloe Gin, OJ) and the Dirty Rotten: Stoli, olive brine, and nostalgia for a pre-Sgt. Bilko Steve Martin.
As things warm up, take advantage of BSBG's most essential bit of antebellum, an outdoor balcony overlooking 46th Street -- because going full-on Bourbon Street means more than getting drunk, it means making certain hundreds of people see you that way.