Meat & Potatoes Limited-Edition Tees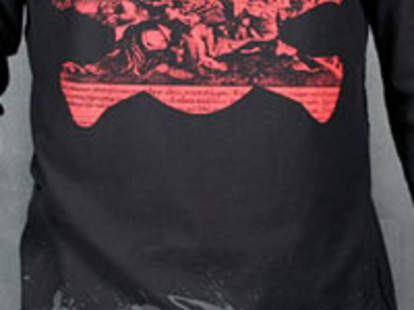 A clever shirt's only as great as the odds are slim of running into some other guy wearing the same one. Get a fighting chance at exclusivity with a limited-edition tee from Meat & Potatoes.
Bored with their advertising design jobs, the Los Angelinos of M&P channeled their stymied creative juices into gallery-worthy graphics that are the sophisticated man to More Cowbell!'s sniveling boy. Each design's hand silk-screened onto only 150 cotton tees, which are then shipped off in ground chuck-style plastic-wrapped Styrofoam trays -- a cute reminder of M&P's branding, and their hatred of the environment. Accompanying your steakish gear, you also get a numbered, 6"x8" print of your tee's graphics, suitable for framing/gazing longingly at as you slouch be-tied and be-suited in your soul-crushing cubicle.
Furthering its sustenance theme, M&P donates a portion of proceeds to Meals on Wheels, the charity beloved by both hungry shut-ins and those obsessed with circles. You can help too, by giving your now outmoded tees to the destitute -- because even the homeless would admonish against hassling the Hoff
Enter "I found M&P on Thrillist" in Comments when you order for a free limited-edition look book