The actual past sucked: nobody bathed, everyone had syphilis, and if you wanted a Juice Tiger you had to find a tiger...and somewhere to grind it. Bringing you a mercifully idealized version of the past, Bill's Bar and Burger

The latest from Stephen Hanson, BB&B's an ode to classic American grub setting up digs in the old Hog Pit space, which has been touched up with a standing counter, tin and dark wood accents, neon signs, and cluttered pictures on the wall, all designed to create a "relaxed, low-key atmosphere" reminiscent of "classic, old-school bars", so...the Hog Pit? The namesake burger's sculpted from a custom blend of Pat LaFrieda beef, nostalgically set on a toasted plain white bun with lettuce/tomato/side of pickles, and optionally kicked up with cheese, secret house dressing, green chili peppers, etc; other standbys include Frank's-sauced boneless Buffalo wings, an engirthifying steak sandwich, Texas-style brisket & bacon chili, beer battered onion rings, tater tots, and sea-salted french fries cut daily from choice Kennebec potatoes, optionally smothered in gravy and melted cheese for those who're burnt out on Disco Biscuits. For slightly more updated fare, dig into blackened Florida grouper sammies (lettuce/pickled tomato/mustard aioli), an Ultimate Turkey Burger freshly ground with aged provolone, parsley and garlic, and a pickled tomato-abetted, bacon-wrapped deep fried wiener called the Hair of the Dog, which will horrifyingly scream between bites that now you're messing with a son of a beef

To complete the all-American gluttony there's desserts like apple and key lime pies, a selection of local and international microbrews (Cold Ass, Ommegang Abbey, Hopf Helles...), and milkshakes that split the difference, including the Guiness/Irish Cream-infused Rainbow's End, and the carrot cake/scotch Office Birthday Party, the very event at which men used to contract syphilis amidst cries of "You tiger!".
Recommended Video
This Pizza Dip Lets You Throw a New Kind of Pizza Party
Previous Venue
Next Venue
Venue Description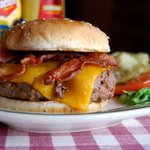 1. Bill's Bar and Burger
22 9th Ave, New York, NY 10014
Coming from Stephen Hanson of BR Guest Hospitality (the group behind Atlantic Grill, Blue Water Grill, Dos Caminos, and others), Bill's Bar and Burger is an East Coast chain known for its as-classic-as-it-comes burgers made with a secret blend. Bill's Meatpacking satellite has a '50s diner meets Memphis 'cue joint vibe with its standing counter, neon signs, and tin and dark wood accents. And addition to burgers, guests can also explore an impressive whiskey menu.