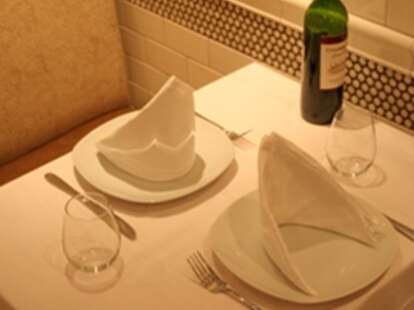 Parting with a cherished standby can be painful, but sometimes the comfort provided by its replacement can become even more indispensable. That's you, Second Aunt Viv! Aiming to fill the void in your Meatpack'd heart, Gansevoort 69.
Soft-opening soon after Labor Day in the caboose-like ex-Florent space, G retains the terrazzo floor and stainless steel facade while cutting the bar in half and placing the vintage double height coolers at either end, slapping floating wooden beams across the tin ceiling, and sprucing the walls with white tile; the mission stays the same, with an avail-all-day breakfast/lunch/dinner menu that's heavy on "the 3 B's - butter, bacon, and beef", also known as Gilbert Brown's Three Wisemen. Breakfast includes egg sammys, buttermilk/silver dollar pancakes, and three different frittatas, plus next-level plates like huevos rancheros w/ carnitas & con queso, brioche french toast w/ rum & caramel poached bananas, fried chicken and apple waffles w/ bourbon maple syrup, and eggs benedict w/ duck breast & liver spread, whose traitorous calories will have your waist saying "Et tu, Pâté?". Supperish highlights're a mac & cheese sauced with béchamel/cheddar/swiss and spiked with shallots/bacon/peas; a sourdough grilled truffle cheese with creamy tomato & thyme fonduta for dipping; a New England-style barbecued pork 'wich roasted 24 hours before being smothered in its own juices for caramelizing, then cooked another 12; and a beef patty on brioche (options from fried mushrooms to gorgonzola) dubbed the 69 Burger, resulting in jokes as irresistible as the food itself.
Because your cravings don't keep office hours, G's open almost a full 24 Thurs-Sat (other days 8-12am), with the bar offering traditional diner seating early before flipping to a boozier feel at night, with bottle/tap standards and cocktails including the 69 Maple (Stoli Vanilla/triple sec/maple/lemon/soda), and the Bacardi Dragon Berry and cucumber vodka'd Afternoon Tea, which despite its name will never deprive you of your most cherished standby: alcohol.