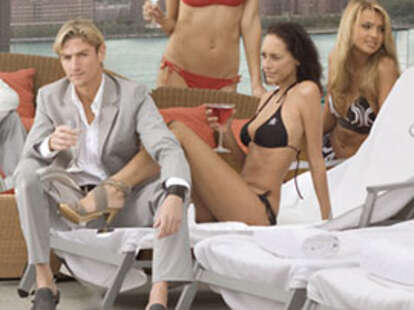 From pleasing yourself to Phoebe Cates, to leaping into the sky and swan diving at a dizzying speed, swimming pools just make so many activities more enjoyable. Add ludicrously sceney brunch to that list, with the Get Up Get Down summer party series at the Gansevoort.
A boozy weekend throwdown hosted in the 'Voort's penthouse pool aerie, GUGD is helmed by Marquee event vets who, realizing fewer people could afford lavish Hamptons parties this summer, decided to help them overspend closer to home. Decked in billowing white curtains and open rain or shine, GUGD's offering two 200-person seatings (12 noon, ~3pm), serving non-Ono prix fixe grub (jumbo lump blue crab cakes, Brandt Beef tournedos...), bottle service, and tropical-themed cocktails ($17, but their vodka tonics run $15, so...); reservations for tables are recommended and walkups are welcome as space allows, though a typical club door policy's enforced by an impeccably attired, bow-tied bouncer who's worked Vegas' Tryst, Southside, and Goldbar, and was P. Diddy's personal assistant before growing weary of blow-drying his tux after vigorous jet skiing. For high rollers, GUGD's roping off several sun-drenched lounges and making them available for $5000 each -- to worm your way in, you could call in a bomb threat, but then who'd be left to see you eating at a $5000 table?
On Saturday, GUGD runs 'til 8pm, but Sunday keeps the doors open until 4am, "because our friends said they'd totally come back early from the Hamptons just for this party if we did it late night" -- though if you're drunken swan diving at 4am on a Monday, you'll wake up wishing the water hadn't been there.
*Photo Credit: Curtis Millard