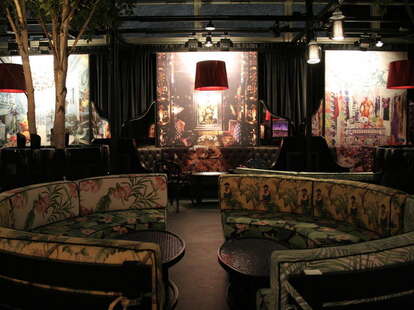 It's a rare breed that can adroitly inhabit two worlds -- Indiana Jones could hob nob with academics and escape giant boulders, while Dr. Jekyll was the only lawyer to have also frequented prostitutes. For a club existing on two distinctly different planes, check out Provocateur.
The guys behind East Hampton's Lily Pond have dropped a glamor bomb on the former Garden of Ono, with two glittering mutant siblings rising in the aftermath: a lounge (called the "Cafe") designed to "bring guests into a woman's fantasy world", and a club to rival the house-music temples of Europe. Behind floor-to-ceiling drapes, the Cafe's a sprawling garden housed under a 25 ft retractable glass roof, complete with a centerpiece of rare imported Silver Birch trees; on top of fur-covered swings, eight prominent banquette tables sit under surreal photo art depicting different "rooms from a European dollhouse", each with hidden phallic imagery that suggests the real fantasy is that a woman's fantasies are filled with peen. The nightclub, meanwhile, rocks a fresh million-dollar sound system to better pump a "new format of dance music" (Eric Prydz, Deadmau5, etc.), which'll echo across 17 banquetted tables (each fitting 10-20) and a private sky box; the bar's lorded over by a 20-foot wide set of Egyptian phoenix wings, while further decadence's courtesy of black chandeliers from the Netherlands, a gold-mirror-and-lace covered DJ booth, and an elevated catwalk/dance cage, all generally inspired by Madonna's '85 "Virgin Tour" (clearly that was pre-Henry Rollins, John Starks, Johnny Zander, Dan Gilroy, Stephen Bray, Jean-Michel Basquiat, Mark Kamins, Norris Burroughs, John Benitez, Keith Carradine, Sean Penn, John Kennedy, Jr, Sandra Bernhard, Prince, Esai Morales, Warren Beatty, Antonio Banderas, Lenny Kravitz, Tony Ward, Michael Jackson, Vanilla Ice, Willem Dafoe, Jose Canseco, James Albright, Ingrid Casares, Big Daddy Kane, John Enos III, Anthony Kiedis, Mark Wahlberg, Luca Tommassini , Jenny Shimizu, Charles Barkley, Tupac Shakur, Dennis Rodman, Carlos Leon, Rufus Sewell, Andy Bird, Billy Zane, Chris Paciello, David Blaine, Guy Ritchie, and that Jesus dude).
While the club will have bottles to drop rock on, the Cafe plans on serving light bites from Tanuki Tavern, plus cocktails infused with Borba crystalline skin care products, e.g., the wrinkle-reducing Fountain of Youth (Inocente Platinum/pineapple/lime/sage), the consumption of which proves you'll inhabit any world in your quest to adroitly fondle someone's giant boulders.