Give your wrist some versatility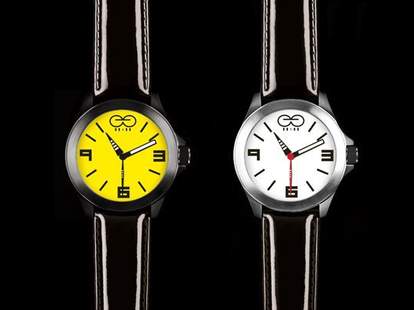 Nothing can make you stand out like a truly distinctive watch, except of course for walking around with your penis out. Because society would rather you grab a timepiece than your own, check out Eleven Eleven.
Just dropped at Babalu Miami, Eleven's a chameleon-ish line of modernly simple, sometimes funky/sometimes classy analog wrist-clocks which all come with interchangeable bands, and draw their name from the superstition that if you see a clock at 11:11, you're meant to stop and make a wish, because according to them "you have the power to make your dreams come true"...so apparently you've been dreaming of interchangeable bands. Set in either stainless steel or anodized aluminum, face patterns include everything from a black/ gray/ white camo, to an eye-catching yellow job with a black numbers/ yellow band combo, to a sky blue case mated to a chocolate band, just like Tay Zonday wishes he was. Also available separately, bands range from solids, to stripes, to argyle, and every single piece is fashioned with Swiss movement, which thankfully describes a watch in which 50% of the components are made in Switzerland, not what happens when you drink too much hot chocolate.
Only 1,111 of each design are made, helping to keep things more unique, which is all you were trying to do with your johnson exposure. Well, that and show everybody your penis.