Drown yourself in tequila and tamales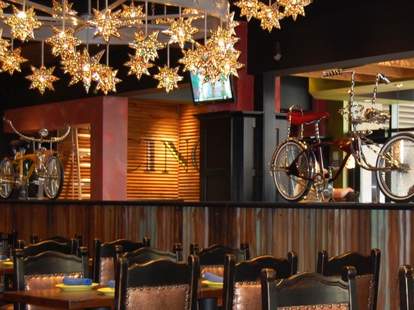 Even though outsiders get it wrong, it's surprisingly difficult to find a touch of Mexico in Miami, unless Michael Vick is in town playing the Dolphins. Giving you all the Mexico you can handle, without the trip to the doc: Cinco Cantina & Tequila Bar.
Committed to bringing the 'hood "an experience and not just a night out", Cinco's relaxed vibe is enhanced by eye-poppers everywhere: massive glittery-starred chandeliers, a rainbow of chairs both inside and on the spacious patio, a row of low-rider bikes you'll want to steal, and a wood-lined DJ booth next to a mural of a maraca-wielding Sebastian the Ibis from UM, whose players actually already stole those bikes while you read this. A guapo roster of Mexican eats kicks off with pork belly tacos and jalapenos rellenos stuffed with goat cheese and avocado ranch, as well as Yucatecan shrimp and squid ceviche (habanero, citrus, cucumber, red onion and jicama) from the raw bar, and tortas including the Cubana with roasted pork loin, black beans, Chihuahua cheese, chipotle mustard, avocado, and Nueske bacon from Wisconsin, where they call bacon "cheese that tastes like pigs". Signature entrees get even crazier, including roasted day-boat scallops (w/ green corn tamale, creamy tomatillo, and grilled corn avocado pico de gallo), chipotle-glazed baby backs w/ Mexico City street corn, and sesame-seared tuna, not to be confused with Sesame Street Tuna: Parcells when he made everyone on the show do pushups, which was extra-hilarious 'cause their arms are like, mad weak.
For sipping, they've got more than just Modelo thanks to Peruvian brews like Cusquena plus Swamp Ape IPA on tap, as well as upwards of 30 tequilas, sangria, a nice roster of wine, and an array of cocktails like the Tequila Canyon Fizz with Cointreau, cranberry, pineapple, and OJ, whose touch you'll definitely want to avoid, even if you gloved him as Nordberg.