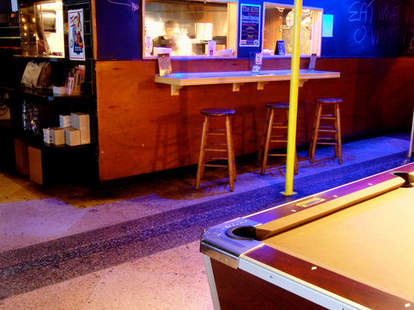 Finding the unexpected can go either way: Columbus's feelings when he discovered the Americas were probably the exact opposite of yours, when you discovered the deal with that super-tall girl. For a positive one -- top-notch bar food in an unexpected place -- discover The Alibi.
Alibi's a new gourmet grub hut built into the back of kinda-legendary Lost Weekend, contrasting the joint's grittiness with elevated eats crafted via a team effort from a Philly-raised bartender and a guy who's done stints with Craftsteak and Charlie Palmer Steak in Vegas after training at the CIA, which prepared him for starring in the screwball kitchen comedy Chefs Like Us. The menu opens with rustic, hand-cut skin-on fries w/ fancy/just-plain-delicious add-ons (truffle oil, garlic salt, chipotle powder, ranch dust, Cheez Whiz), Buffalo wings w/ chipotle BBQ, honey garlic, or hot sauce, and pizzas like a margherita (fresh-sliced buffalo mozz, torn basil, sweet balsamic drizzle), and one with thinly sliced ribeye, grilled onions and buffalo mozz, called the Phat Philly -- as if there's any other kind. The palate party continues with heavy-duty sandwiches like a Brotherly Love-approved Philly Cheesesteak (thin-sliced ribeye and Amoroso rolls shipped from Philly, grilled onions, and American, Provolone, or Cheez Whiz), The Alibi Burger with 8oz Angus 80/20 meat/fat blend that's broiled to retain the juices, and the Southern Star: hot-sauced, vinegar-drizzled Eastern Carolina-style pulled pork that's been slow-roasted, and now thinks Dane Cook's funny.
Drinks come from Weekend's full bar, which means straightforward cocktails and a substantial beer selection including Shock Top and Yuengling on tap, plus bottles of Sea Dog Blue Paw Wheat, Stone IPA, Dogfish Head Pale Ale, and Samuel Smith Nut Brown Ale -- a beer that's refreshingly up-front about its package.