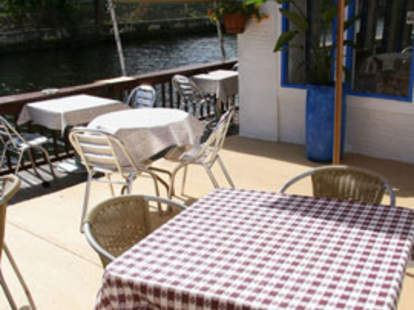 When it comes to date spots, you can't just have one, you need an arsenal -- from SoBe glitz, to joints so under-the-radar, taking her to one is one step removed from abduction. For the latter, head to Anise Waterfront Taverna.
From the husband and wife behind Ouzo's, Anise lurks in a nearly invisible nook abutting the Upper East Side's Little River; décor's kept simple, with candles, stone tiles, whitewashed walls, and window & outdoor seating overlooking the water. Food is "modern Greek islands" (i.e., grill everything), with mezze like octopus, quail, and flaming kefalotiri cheese; entrees include herb-rubbed NY strip, grilled baby lamb chops, whole Mediterranean sea bream and loup de mer, and a Greek bouillabaisse with cod, shrimp, squid, and aggressive amounts of fennel and ouzo -- it could only be more perfect if garnished with an armless statue. Non-grilled outliers include a mac & ground beef casserole dolloped with bechamel, and deep-fried smelt, indistinguishable from French fries but for tasting like smelt, and having eyes.
For booze, Anise offers beer and wine, the latter hailing from seaside regions of Europe: a pinot noir from Corsica, a moschofilero (pinot's Greek brother) from the Peloponnesian islands, and a cab from Israel -- and when it comes to abduction, there's something to be said for an Israeli cab.