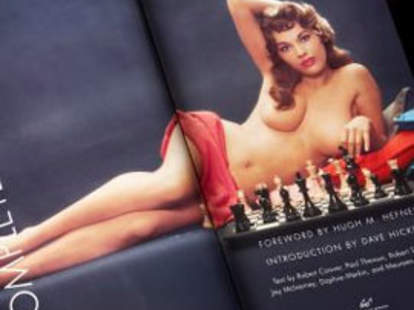 Before funneling a vat of stuffing into your gaping maw, dig into this month's Best Of smorgasbord, collected from across the Thrillist Network. Please try not to choke on it, and we'll see you on Monday.
Emailed to Boston:Playboy's Complete Centerfolds: Motley just got in the new edition of Playboy: The Complete Centerfolds book, which is ten times cheaper, 200% more compact, and infinitely more comfortable to smuggle into the bathroom shoved in your sweatpant waistband.
Unfold the mystery here
Emailed to San Francisco: SonicSwap: The South Bay's own Swap virtually replicates your iTunes library via YouTube, allowing you to access those same jams on any computer that's Internet-connected (if yours isn't, then how'r you reading this? Seriously, how?).
To listen to your tunes anywhere you goddamn please, click here
Emailed to Boston: Nooka Glow-in-the-Dark Edition Zub: Grand just got in 10 extremely ltd-edition white Zub-styled Nooka watches made specifically for the Glow In The Dark tour crew, appropriately fashioned to actually light up in the dark, making the watch super sweet during 4 AM raves, or bathroom trips when you've been too lazy to replace the light bulb.
More Nooka-trition here
Emailed to New York: Bruxe: A Montreal co.'s debut, Bruxe is a futuristically-modish line of gear and computer bags that'll oh-so-comfortably ferry your laptop/deodorant/melted Twix without making you look like a weirdly huge Osh Kosh escapee from the toddlers/ninos department.
More on the Bruxe of the matter here
Emailed to Nation: Jinni: Like a Pandora for cinema, Israel-based Jin' had a team of film professionals create over two thousand tags to map the "genes" of over 10,000 films, then mated that work to emulative "advanced machine-learning technology" to create a system producing reliable recommendations to pull you back from the brink of a Law & Order marathon.
Find compatible cinema here
Party: Thrillist's Miami Launch: On December 2nd, Thrillist wants you to party: not in an uncomfortably swinging, "Hey, do you think my girlfriend is hot?" kind of way, but a big launch party bash at The Florida Room, with Stoli cocktails, JetBlue giveaways, and a cigar roller from Cuba -- and everyone knows the world's finest smoke is...a Cuban's cigar. For a shot at admission, RSVP right here, right now.