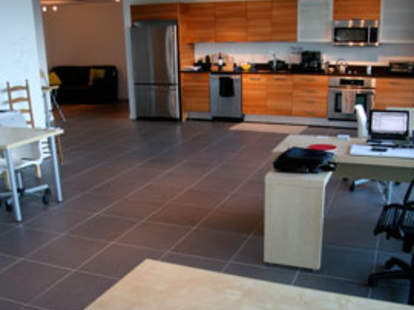 Working from Starbucks is great for limited productivity and getting shot down by chicks in glasses, but what about limited productivity and getting shot down by chicks in bikinis? For an office offering just that, check out Brikolodge.
Brik's a trapezoidal-pool-equipped, 1800sqft communal workspace divvied up into four sharable rooms, all with a breezy vibe and floor-to-ceiling windows, where you can buy office time by the day/month/year -- if you haven't outgrown it by then, you'd better find a workspace with no pool. Inside, you'll find desks, high-speed wireless, a free wireless printer, lounge area with a cushy leather sofa and ottoman, full kitchen, shower (BYO soap/towel), a trifecta of sizable bathrooms that're surely cleaner than yours, and use of the condo's aforementioned 7th floor pool, with a view of Biscayne Bay to the east, and your pubes in your laptop keys to the South. For memberships, there's the top-end "Resident", which gets you your own desk, locker, the freedom to bring in file cabinets, plus a key for 24/7 access to the building, workspace, and pool (including weekends); the "Shared Space", providing office use 3x/week from 9am to 6pm (or later if need be), plus pool use during those hours; and the "Drop In", in which your first three days're free, then it's $15/day after that, with the same benefits of the "Shared Space" membership, plus the freedom to let your business wither and watch tons of Maury.
Brik also gives night classes on Wordpress, and'll soon offer workshops on Quickbooks, Joomla computer programming, accounting, and potential legal issues for small business startups. They also let you hold meetings in their conference room for a small fee, and the guys who run the joint'll even pretend they work for you -- the perfect setup for being falsely productive, and getting shot down by chicks in pant-suits.