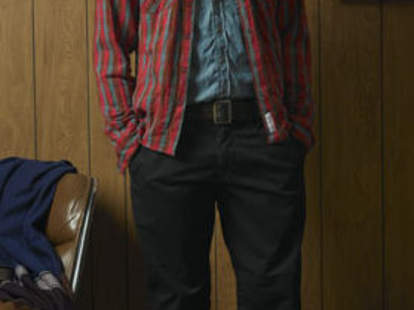 Starting you own venture after slaving for the big boys is classic entrepreneurial stuff: Jobs and Wozniak were techies-for-hire with Atari before founding Apple, and Engine Company 73'll totally eat their words when your fire department gets every single cat out of every single tree. For a clothing line that broke away from the Man, try on Burkman Bros.
From the minds of Canuck siblings who designed for GAP before busting out on their own, Burkman crafts "updated classic" menswear with a rustic feel reminiscent of boarding schools and northern holidays, and declare, "If I wouldn't wear it, I wouldn't make it", a motto that was the lone stumbling block to bringing Dennis Rodman onto the design team. Shirts have an athletic but not overly-fitted cut and come in exclusive fabrics like the autumn-weight Fall Madras in a smallish red/white/black plaid, a series of Luxe Flannels in various plaids lined with soft Oxford cloth, and a Chambray Workshirt that feels like a super-light denim, and gets an oversized chest pocket that's riveted -- presumably with terror as it watches you attempt to shove yet another bag of Skittles in it. Outerwear includes the Varsity V-Neck Sweater in red with a black & white arm band around one sleeve, the Pouch Pocket Vintage Fleece Crew (raglan sleeves, classic gray), and the pullover Heraldic Hoodie with hand-warming pouch pocket, available either in brown with a school crest on the chest, or dark blue with a lion in a yellow coat-of-arms, much easier to wear out on the town than your ill-fated coat of legs.
To get those legs in on the action, Burkman's also peddling pants and shorts, like the Uniform Pant in khaki with dark contrast stitching and soft blue Oxford cloth lining, and the Uniform Short, basically the same design but with flannel lining, and cut off at the knees -- exactly how the city's going to feel when you start your own police department!