Casale Pizzeria Mozzarella Bar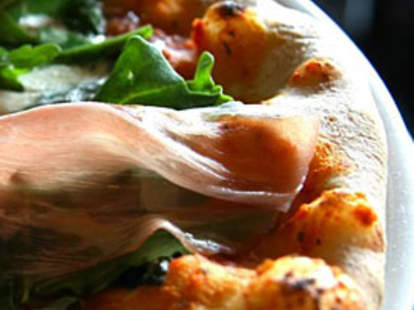 Things with the same genetics can still end up looking different: BMW heritage infuses the daintier Mini, and 99% of chimp DNA infuses the daintier you. For a toned-down resto benefiting from elevated bloodlines, check out Casale.
The just-born, less-formal-but-every-bit-as-gifted little bro of next-door Sardinia, Casale seems yanked out of an Italian village, with a rustic brick bar and archways, simple wood tables, weathered stone floors, and a food bar running the length of the very open kitchen, which plates grub that's as meticulously created as it is next door, using (thanks to zoning laws) the last two wood-burning ovens that'll ever be allowed on South Beach -- what's next, no more tire fires? Pizza's the main attraction, with thin-crust pies carefully rotated next to wood coals, in toothsome iterations like the Tuttavista (soft robilola & truffle pecorino), the Pugliese (broccoli rabe & wild boar sausage), and one with arugula, bufala mozz, and black label prosciutto aged 18 months, then cut super-thin named Super Margherita -- also what Mario kicks back with after a hard day of bashing coins out of bricks with his head. There's also a crudo bar with carpaccios of yellowfin, swordfish, scallop, and a fresh-cheese bar (w/ tons of oil toppings) blessed with mozzarella in carrozza (an Italian grilled cheese that's been battered and cooked again), the famed Bufala Campana, and burrata from Puglia, Italy's heel, which prides itself on not producing toe cheese.
Since you enjoy booze with your food, there's a vast wine list with everything under 50 bucks, plus a full bar upstairs done in a mod lounge vibe, with a slate bar, rounded leather seating, an outdoor deck, flatscreens, and a foosball table -- which despite being dainty, will still cause you to go bananas.