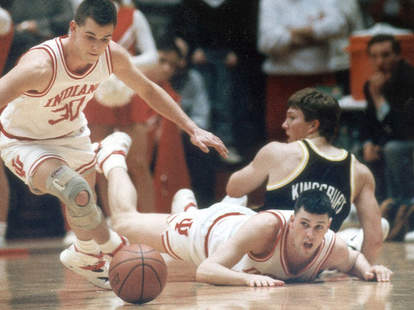 Florida's seen its share of great white shooters, from Brett Nelson, to Lee Humphrey, to Teddy Dupay, although to be fair, he was really more into capping nurse sharks. Giving you the net-snapping lowdown on the rest of them, The Kingsbury Factor
A stat-happy blog from a dude who's been to the Miami airport ("several times") and his network of correspondents, Kingsbury's a (planning to be) encyclopedic compendium of everything involving short, white, deadeye shooters, ranked by statistical metrics and the "Kingsbury Factor", vaguely defined as "how often said shooter applies the life lessons of former Iowa sharpshooter Chris Kingsbury to his own game"... as if you even needed that explained. So far they've unleashed
Preseason Rankings"#7. Brian Green (6-1, Utah St, Senior): Thirteen years after his infamous breakup with Donna Martin post her graduating, BG can still shoot the peach (pit), with an incredible 50% from three. His ranking would be higher, but he plays in the WAC, a conference whose name is actually slang for lame.
Essays, Including This One on Richie Farmer"Farmer started his career as a prominent white shooter at the precocious age of however-old-people-in-Kentucky-are-in-8th-grade, when he electrified Rupp Arena by scoring 2 points in 68 seconds during a high school Sweet 16 game ... His post-collegiate percentages are also extraordinary: He has three children, all boys. Shooting Percentage: 100%.
"A Multi-Part (Pun Intended) Study of White Shooters and their Hair""Jeff Hornacek looked like some white dude who may or may not try to sell you flood insurance at some point in the conversation, and then, just when you were about to pass out, pop a three in your eyeball, although his hair would never let him term it quite like that. While a popular rumor has it that he was saying 'hello' to his daughter as he stroked his cheek before shooting free-throws, in actuality, he was thanking his barber, Sal.
Kingsbury's also got a helpful FAQ, covering stuff like "What about someone whose race is difficult to ascertain, like Mike Bibby?" (A: Well, luckily for us Mike Bibby is in the NBA, so we don't have to deal with that) and "where does former Texas Tech Quarterback Kliff Kingsbury fit in?" -- the answer to which surely depends on if he's backing up Willie Beamon on the Miami Sharks, and if Teddy Dupay's packing a Glock.