60ish bottles of tequila on the wall, 60ish bottles of tequila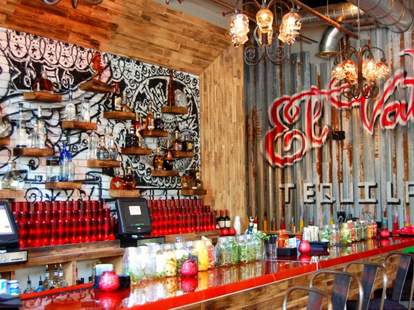 Flair is important when you want to stand out in a crowd, unless you're in a crowd of 37 piece-wearing Brians, in which case, you'd actually do better without it. Far exceeding the minimum amount: El Vato Tequila & Taco Bar.
One of Brickell's few newly open spots that has neither "Irish" nor "pub" in its name, Vato's warehouse-type space delivers an edgy feel amidst an amazing amalgam of, well, stuff: graffiti-heavy walls done by a local artist, spare-tire sinks, skull light bulbs, low-rider bike chandeliers, and even a shiny red 1964 Riviera next to the kitchen that doubles as a four-really-old-person booth. South o' the Border eats include chicharron de queso (essentially a bunch of Mexican cheeses grilled until crunchy); mahi tacos in housemade tortillas; and traditional flautas stuffed with chipotle aioli, homemade jalapeno jelly, and chicken they promise is "certified humane", which is definitely better than the version without the e at the end. As for the boozing, the hard stuff's front and center, with just shy of 60 tequilas including Casa Noble Silver, Mi Barel Reposado, and $100/glass Patron Buerdos, as well cocktails like the Guadalupe Martini with reposado, midori, ginger syrup, watermelon puree, and fresh-made sour, plus a silver tequila and mango nectar-filled margarita called the Cheech & Chong, which will ensure your clear thinking and enunciation goes up in smoke.
Vato awesomely plans keep its kitchen open until 5a on weekends so late-nighters can get their taco fix, meaning you can avoid hitting Chotchkie's for pizza shooters, shrimp poppers, or extreme fajitas. Although those pizza shooters do sound mighty good.