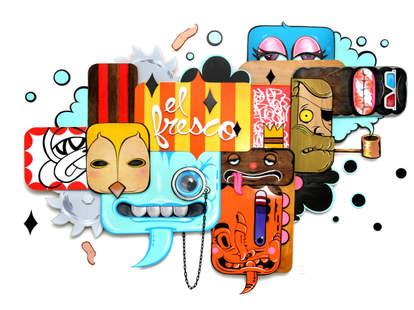 Proving that old wood can do great things without the help of products endorsed by Jimmy Johnson is Surface Merchants: a three-man local collective who take stuff like wood slabs from 1920s Miami buildings, then sculpt and paint them into everything from pirate ships to pink elephants, all of which can be interlocked to produce awesomely oversized/ trippy 3-D wall swag. Following the success of their debut show, they're opening a pop-up shop dubbed Mini Merch to peddle t-shirts, prints, and most awesomely, scaled-down versions of their big works, unless of course they call Jimmy Johnson. The lowdown:
Puzzle Heads: Nine new smaller slabs of wood have been handsawed into 2'x4' pieces including colorful thought bubble-shaped character heads and abstract patterns, any of which can be hung solo or pieced together into one long line, assuming you're prepared for the potential of Marion Barry coming to your house and snorting all your artwork.
El Fresco: The threesome's 12"x12'" cartoony print sorta resembles a pipe-smoking puffy white cloud with a street sign coming out of its back and a freaky-looking thought bubble popping out of its cloud stomach, assuming clouds do indeed have stomachs.
T-shirts: These guys come in three colors, including plum, blue, or military green, and feature a damn-sexy mermaid sitting on a giant fishhook, because no matter how much you believe Jimmy Johnson, your wardrobe can probably benefit from some female enhancement as well.