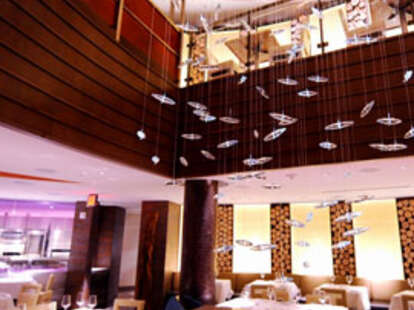 Even the most creative people treat certain subjects with reverence -- otherwise, things could turn out like Battlefield Earth, which totally didn't respect the sacred heritage of not making Travolta even more hideous. For a wildly creative place that takes blessedly few liberties with steer, hit Gotham Steak.
From the vaunted chef behind NYC's Gotham Bar & Grill, GS feels like a massive, two-story MiMo chandelier with an airy restaurant floating inside, where fish and foul are treated with innovative tropical and Asian flavors, and steak is treated...like steak. The meat, hardwood-grilled and finished in a 1,200F broiler, is branded by region or breed: NY strips (prime Black Angus or 50-day aged prime Niman Ranch); filets (Black Angus or Brandt Farms); grass-fed ribeye (Painted Hills Farm); porterhouse (Niman Ranch); and super-marbled Wagyu from Strube Ranch, Sher Farms, or Japan, this last given an "A-5" -- a designation for highest quality, and for being a mid-size German coupe. The rest of the menu's regionally & culturally wacky, with FLA-intensive fruits flavoring items like seared foie gras w/ roasted pineapple, tangerine, and ginger reduction; Maine lobster cocktail w/ avocado & lemongrass dressing; and hamachi sashimi with Asian pear, watermelon radish, and wasabi orange soy yuzu dressing -- damn, guy from NYC's Gotham Bar & Grill, yuzu crazy.
Thirst-quenching's handled by cocktails ranging from the simple but well-made (sidecar, margarita, Manhattan) to the new-jack (the "Cucumber Cocktail" = Hendrick's Gin, cucumber essence, spearmint, lime, cane nectar); and, lording over everything, a 13,000-bottle glass-and-metal wine case -- a structure that should inspire reverence, but'll ultimately end up pushing you towards your own colossally fat flop.