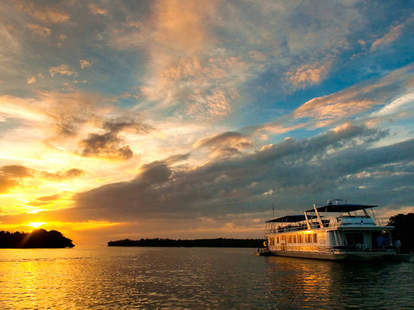 Thoroughly exploring a new environment often requires a mothership, like the Starship Enterprise, which was designed to boldly go where no man had gone before, and lo and behold, it all had breathable atmosphere and tolerable gravity levels. For another HQ luxuriously piercing the wilderness of the Everglades, book some time on Gulf Island Adventures' Mothership.
GIA's mama-boat operation's an all-inclusive five-day/four-night journey down the Southwest coast of Florida, through the 10,000 Islands, and into the most remote areas of the Everglades, where mangrove fringe meets the Gulf of Mexico, letting you explore the wilderness on smaller boats and fish all damn day in between basking amongst posh amenities and tons o' grub and booze, the last part making it very much like the P Funk Mothership, except it's booze, not crack. The 100ft-long vessel has a shallow draft to access hidden estuaries and deserted beaches, four state rooms (w/ private baths, TVs, A/C), a salon with a 70-inch satellite flatscreen and lots of cushy seating, and a shaded upper deck with a full bar, BBQ, and hot tub; there's also wireless Internets throughout most of the area, plus a washer and dryer -- where your dirty clothes will meet the incoming Tide. You'll leave that luxe-ness to jump onto smaller skiffs (with an expert guide) to shoot into the labyrinth of mangroves, weed flats, and creeks to fish for tarpon, snook, goliath grouper, bull sharks, as well as more frying-pan-friendly mangrove snapper, redfish, and sea trout; you can also SCUBA dive, go lobstering, eco-tour via kayak, and even jet ski, in case you need to shoot a follow-up to your successful digital cable commercial.
Eats're planned per trip (they'll cater to your prefs) but typical meals include eggs benny for breakfast, burger & dogs for lunch, and dinners like steak, pork chops, whatever you might catch that day (lobster, anyone?); as far as the booze, there're beers, Grey Goose, Crown Royal, and Captain Morgan, whose ship's boldly led many a freshman to disgrace: the final frontier.
Photos courtesy of Sam Root, SaltyShores.com