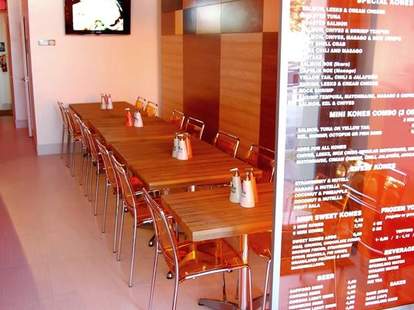 Disproving assumptions can be enlightening, like when man figured out the earth was round, or that sheep were good for more than just sex. For a joint trashing your preconceived notions of fast food, hit King Kone.
Born from the explosive popularity of quick-service sushi kone spots in Brazil and brought here by two buddies from Rio, Kone's an airy counter service operation done up in bright orange and white with beach-toned wood paneling, whipping up fast-food-speed sushi kones made-to-order in different sizes: mini, standard, and a king kone big enough for a light meal, or dunce cap, if you're dining in an abusive 1950s classroom. Aside from kones, there're apps like Sobe Cheese Tempura (salmon & cream cheese), and baby octopus, but the kones're the main attraction, starting with snackable mini jobs stuffed with salmon, tuna, yellowtail, eel, shrimp, and octopus, all coming in packs of three or six, like so many tiny, edible velociraptors. Standard and King-size rolls (to which you can add chives, jalapeno, avocado, etc.) come DIY with brown or white rice plus any of the aforementioned swimmers, or in predetermined forms like salmon/leeks/cream cheese, yellowtail/chili/jalapeno, and tempura shrimp that's been massago'd and mayo'd, and now it feels guilty about calling its girlfriend.
Imbibables take the form of beers like Corona, Sapporo, and both standard and sparkling sake, and for dessert you can concoct sweet cones like strawberry & Nutella and coconut & pineapple, with extras like mini marshmallows, M&Ms, brownie pieces, and pie crust -- the very delicious ingredient that made the dude in American Pie feel so sheepish.