Some things are best when hidden, like Easter eggs, and that rash you totally got from dyeing Easter eggs. Seriously, that's how it happened. For a bar that's pleasantly concealed, find Lou's Beer Garden. Hidden behind a historical deco hotel, and accessed via a palm-lined alley off the quiet streets of North Shores, Lou's is a small, nicely out of the way poolside beer and wine bar with mosaic blue tile walls, deco ceiling fans, and a flatscreen for games, with seating at the bar as well as around the pool, where you can sit and watch people brazenly jump in without allowing 30 minutes for digestion. The still-expanding beer list includes bottle staples like St. Pauli Girl and Warsteiner, but adds boozy intrigue with uncommon-to-the-beach taps like Grolsch, Jacksonville's own Landshark Lager, Shock Top (a citrusy unfiltered Belgian-style wheat ale), Longhammer IPA from Washington, plus two from Kona: the hoppy Longboard Island Lager, and the Hawaiian-coffee-brewed Pipeline Porter, which has chocolate/caramel flavors, but unfortunately lacks the chewy nougat and cookie pieces we're all after in a beer. Beyond brews, there're sake mixers like the Lycheetini (pureed lychees) and Mel's AguaSake (fresh watermelon juice), as well as frozen red and white sangria, and wines like Brownstone Cab from Cali, Los Clop Malbec from Argentina, and a Merlot from France called Lazy Lizard, because they're tired of being called Lazy Frogs. Lou's will stuff your belly with poolside grub like artisan pizzas, crispy baby sardines with lemon and Tabasco, and an 8oz Angus burger with bacon and feta; they've also got deals like happy hour from 5 to 8pm, and a Sat/Sun special where girls get a free beer every hour on the hour if they're wearing a bikini, a deal so good, it might just lead you to make some rash fashion choices.
Recommended Video
Cigarettes Are Bad, so Make This Smoked Rosemary Oil Dirty Martini Instead
Previous Venue
Next Venue
Venue Description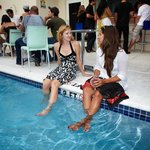 1. Lou's Beer Garden
7337 Harding Ave, Miami Beach, FL 33141
Who doesn't love a poolside beer/wine bar with mosaic blue tile walls, a flatscreen for games, and seating around said pool? Chow down artisan pizzas, or an 8oz Angus burger with bacon and feta, because happy hour goes til 8pm.