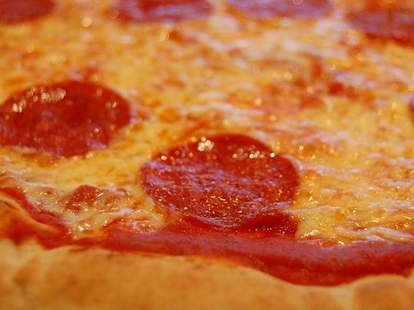 Often, the only way to get what you need is to import it, especially when what you need is the good whoopie cushions. For a pizza shop importing just about everything, Luna Corner Pizza.
From a family that's been running a pizzeria in Crema, Italy for over four decades, Luna's a colorful take-out spot with a slick mod interior, LCD TVs, and quotes on the walls from Italian heavyweights like da Vinci, Armani, and Pavarotti, using ingredients approved and shipped from the motherland to create massive 20-inch pies, half pies, and slices in a convection oven that's stone-bottomed (it's a real hard ass). Pies're done Neapolitan-style, made with dough that blends 24 Italian flours with water from the Alps, organic San Marzano tomatoes for sauce, and imported mozzarella, in options like classic Margherita with Parmesan & fresh basil, Salciccia with imported Italian sausage & onion, and Hawaiano, made with fresh pineapple, and prosciutto cotto -- Italian ham cooked with sugar, bay leaves, cinnamon, and cloves, so be assured that 14-year-old girls will attempt to buy your pizza with fake IDs. There'll also be weekly special pies like the Verdure (green pepper, eggplant, zucchini, onion), the Gorgonzola & Mele (w/ mozzarella & apples), and the Napoli, with basil, anchovies, olives, and capers, hopefully including The Secret of Skull Mountain.
They'll get you even fatter with desserts like Italian apple pie made with sponge cake, cream, and apple slices, and some 'za-style sweets like pizza crust with mozz, Nutella, and a banana, which you risk severely damaging when you mess around with those inferior whoopie cushions.