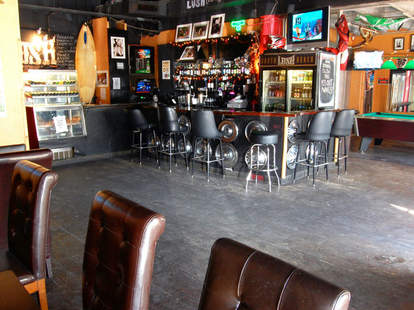 Training at the right places can take you far: studying law at Harvard almost guarantees you a job at a top firm, and studying anything at the University of Phoenix Online almost guarantees you a promotional t-shirt. For a bar from a dude who got schooled on how to party by some of the best, check out Lush.
From an alum of Clevelander's/Tootsie's brand of straightforward fun, Lush's a comfortably divey sanctuary from the surrounding club mayhem, radiating a locals-lovin', lived-in surf vibe thanks to weathered wood floors, bamboo shades, walls festooned with surf boards and Christmas lights, hubcaps on the bar's face, a pool table, and a Spuds MacKenzie look-alike, who's clearly not the original party dog, but nonetheless an animal. Lush's lushes'll have to subsist on just wine and beer: vino's a rotating cast of Pinot Grigio, Pinot Noir, Chard, Cab, and White Zin, while brews include Guinness and weekly special micros on tap, bottles like Young's Double Chocolate Stout, Magners Irish Cider, Dragon Stout, and Abita Purple Haze, plus $2 cans of PBR; there're also $2 Jell-O shots (which have booze, but're cool as they're "below some legal limit") served in little pill cups -- take too many, and you'll have a huge co-pay in the morning. Those tipples're regularly made dangerously affordable: Tues it's $1 Miller Lites all night, Wednesday's Casino Night (beat the bartender in a hand of blackjack and win your drink), weekend happy hours ($3 beers, $5 wines) run noon-8, and weekdays they're kind enough to offer those savings from 2-10pm, a blessing they term "Daycare For Drunks", making each Lush 'tender a Kinder-bar-ten Cop. IT'S NOT A RUUUMOR!
As for entertainment, they play reggae during the day and rock at night, and keep four TVs around the bar constantly buzzing with extreme sports and surfing vids, some featuring men with such a degree of mastery, those dudes must've gone to DeVry.