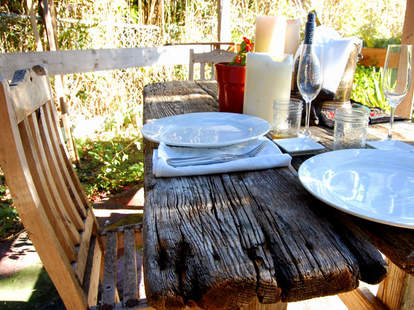 Inviting the public into your home is an act of great generosity and trust, but it's risky: you could end up having to deal with a pack of Hare Krishna, or worse, your parents. For a chef who welcomes you into his despite your bald-with-rattail-ness , call Luuur.
From exuberant chef Alan Hughes, who started cheffing at 18 in Argentina, worked through Spain, and eventually hit Miami's much-loved 190, Luuur's a one-table, four-course restaurant serving lunch and dinner inside the gracious fellow's home; most consumption's handled in the backyard, with a slightly unkempt bohemian dining area under a wooden canopy dangling a candle-covered chandelier, filled with rustic wood furniture (when it's nippy out, Alan hauls the table inside to his living room, where he keeps the computer with the sticky "U" button). The French/Spanish-influenced menu changes monthly, and is really more of a guide (you can alter it when setting up your appointment); January's includes roasted garlic custard w/ almond relish, duck leg confit simmered in fat and herbs for six hours w/ crispy potato pancakes & starfruit chutney (his buddy has a tree), a pan-roasted corvina (big cousin of our sea trout) with fennel, smoked tomatoes, and celery root puree, and finally a molten chocolate cake w/ malt anglaise (pourable custard), featuring the slight nuttiness you enjoyed in the malted milkshakes you drank when your own nuts were slight. Since there're no parents it's all BYOB, and for this month's offerings Alan suggests a light, crisp Spanish Albariño to go with the garlic custard, a Pinot Noir of your choice for the duck and fish, and for the dessert, a tawny port -- after all that imbibing you might need a cab, and following that, a taxi home.
Alan also has a series of large private dinners that you can sign up for, or he can cater/teach at your house; you buy the food and he shows up and cooks for the party, learning you good on techniques along the way -- you can always repay him with a tiny flower, and enlightenment.